FX Draw provides 4 arc tools - end points and point on the arc; centre and end points, four corner (elliptical) arcs and compass arcs.
Arcs, sectors and segments are all drawn with the same tool. Any arc can be made into a sector or a segment by selecting the options in the properties. As with circles and ellipses, there is more than one way to draw an arc. Once drawn, all arcs share the same properties.
Every arc can have an arrowhead drawn at each end and one in the middle. You can select a mark to show the centre of curvature. On most arcs you can set the rotation and central angle of the arc explicitly. You can choose to draw the arc or its associated sector or segment. Finally, on most arcs you can choose to draw the major or minor arc defined by your control points.
Rotation is measured anti-clockwise from a horizontal line pointing to the right. Negative rotations rotate the arc clockwise. The central angle is the angle between the two arms of the arc.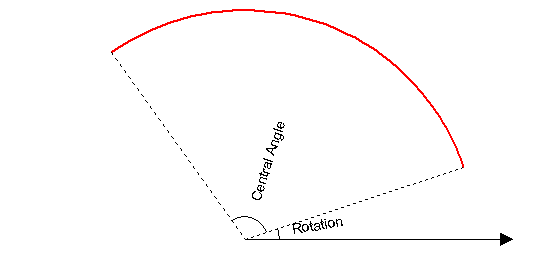 One final major difference between the arc tools is that the four corner tool is the ONLY arc tool that can draw elliptical arcs. The other three tools will always draw circular arcs.
Available Parameters for Arcs
$centre - centre of curvature
$start
$stop
$radius
$length
$sector - area of sector defined by arc
$segment - area of segment defined by arc
$angle - central angle
Available Parameters for Elliptical Arcs
$centre - centre of curvature
$start
$stop
$length
$minoraxis - length of minor axis
$majoraxis - length of major axis
$angle - central angle
$eccentricity