The line type toolbar lets you control the style, thickness and colour of lines that make up your image.

The first drop down menu lets you pick the style of line you wish to use. You can choose between solid, dotted, dashed and a mixture of dashes and dots.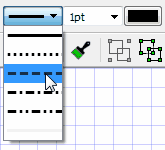 The second drop down menu allows you to set the thickness of the line drawn. The line tool uses points as its standard measurement. A point is one 72th of an inch.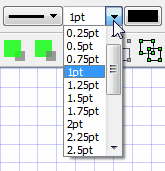 You can enter ANY measurement in the line thickness using any of FX Draw's supported units (cm, mm, pt and ")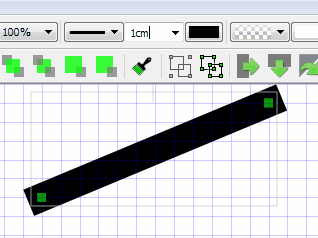 The final button allows you to choose the color of the line.
If a figure is selected, the line type toolbar will show the line settings for that figure and allows you to change them. If there are no figures selected then the line type toolbar will show the current default line settings that any NEW figure will be created with.