Efofex has used Classic Mode (aka OLE) for over 25 years and it is very popular with users (despite the issues that can occur). If you decide to continue using the OLE system, any graphics you create with Efofex Graphic ID versions of our products will be tagged with and ID and have their data saved to the database automatically. This will greatly assist any later change to using the full Efofex Graphic ID system.
Using OLE Graphics in Word for WIndows
The most efficient way to use the OLE graphics in Word (Windows only) is to integrate the products with Word. This adds an Efofex toolbar to your Word ribbon that makes inserting new graphics easy.
To integrate with Word, start one of the graphics programs and then go to the Help menu.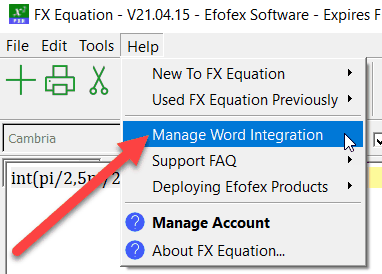 Select Manage "Classic Mode" Word Integration and select which products you want included on the toolbars. Integration is automatic.
You will need to restart Word and you will then see a new Efofex Classic tab on your ribbon bar.

The buttons insert a new graphic into your document.
Creating a Graphic
· Push the appropriate toolbar button

· Generate your graphic.
· Click the Green tick
When you insert a graphic object into your document, the selected graphics program will start and you can use it in the same way you use it as a standalone program. The only real difference is how you return to Word.

The green tick will return your image to Word showing all changes you have made. The red cross returns to Word without any changes being updated.
Once you have finished drawing your structure, push the appropriate button to return to Word.
Editing
To edit an existing graphic, double click on the graphic in your Word document.
Using OLE Graphics In Other Products
Quite a few products support OLE graphics. To insert an OLE graphic into your program, look for the "Insert Object" option and insert an FX Draw, FX Graph, FX Stat or FX ChemStruct object.
Support for OLE is patchy and often changes between versions of software. We cannot guarantee that any particular usage you make of OLE graphics will be supported in future versions of the software you insert the graphics into.